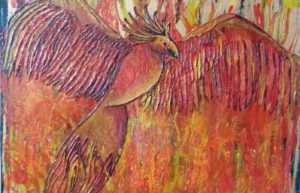 Creating Images to Give Them A Voice – the Work of Kate Shaffer
"Those who overcome great challenges will be changed, and often in unexpected ways. For our struggles enter our lives as unwelcome guests, but they bring valuable gifts. And once the pain subsides, the gifts remain. These gifts are life's true treasures, bought at great price, but cannot be acquired in any other way."
-author unknown-
Who I Am
 I am a survivor. I know the fear of a little child who is being "shown what little girls are for". I know the aftermath of rape. What should I do? Who can I tell? Will anybody hear me?
I am also an artist. I recognize the power of art to heal, to express the inner strength and to recover joy, because that is what art has done for me. Art is the gift left behind after the pain. Art is my voice and, I believe, it can be a voice for anyone who has survived.
I am an artist who seeks, through the use of metaphor, to express the transformation of loss into joy, healing and strength.
The type of loss that my newest project involves is more difficult to express than the loss of loved ones or possessions. It is the loss of childhood, of safety and of security. It is the loss of those who are raped, sold, held captive and emotionally and physically assaulted. This is the type of loss that steals everything you are. Those who are able to overcome this great challenge and make a life of joy and hope are the ones whose stories I wish to tell.
How can I do this with art?
Metaphor is the use of images to express abstract concepts visually. Metaphor is the perfect vehicle for telling these stories. Images allow the survivors to keep their anonymity while still sharing what gives them the hope and joy on their way toward becoming a whole person.
It is through showing the hope and strength of survivors that will allow others to work through the loss and find strength in the promise of a better future. A future that will allow them to become healed, whole and have a life free from fear.
What is my goal?
 I want to tell the stories of those who have survived and are finding a way to joy. I want to create images that show survivors how to see themselves as strong, whole and alive. I want these images to help survivors to discover the gifts that are left behind so they can help make this world a better place because they are in it. I want survivors to be able to see their gift "bought at a great price" as the treasure they can give to others.
 What is involved
Each painting will go through the same process. When I receive an email from someone reaching out to have one's story told, I will send a series of questions which will focus on the strength each individual found to survive. I will chose 24 stories that represent a wide range of experiences to allow as many voices to be heard as possible. Those who are chosen, will have their story told in the light of their strength and the spirit that allowed them to survive. I will then choose the imagery based on the responses to the questions. Please note: those who wish to remain anonymous will have their names changed.
I will detail the entire process of each painting. How I decide on the imagery, the meaning of each metaphor and its significance to the person and the story will be told in the first blog post for each person. Sketches and the painting process will be posted in the second blog post with the final painting revealed at the end. Once the painting is done, it will be professionally scanned and the image sent to a national provider of fine art prints which will be for sale. 50% of the proceeds of the sale of the prints will go to the Give Them A Voice Foundation.
How You Can Be Involved
 I need your stories! My gifts mean nothing without your stories to tell. If you would like your story told please send an email to studio@kateshafferfineart.com
Tell me why you would like your story told. Once I get your email I will send you a list of questions. These questions will focus on those things that helped you survive rather than on the horror of what you experienced. I want to be able to show the strength and healing you have found for your life in the aftermath of your loss.
You deserve to find the gift left behind.
Let me tell your story. Email me at studio@kateshafferfineart.com I will send you the questions that will walk you, gently, through your story of victory. Let me help you see your strength and power in a painting.
If you are not a survivor, keep reading, there is something for you as well.
The Project Goals
The goals for this project are twofold. The first is to have another way to give survivors a voice, a voice of victory, a voice that will give hope to those coming out of similar situations. I want a way for survivors to see themselves with the strength represented in the metaphor used. The second is to raise money for Give Them A Voice Foundation. The money will be used in the location, rescue and rehabilitation of even more victims of human trafficking, until we can make this horrible practice a thing of the past.
What Now?
If you would like to be notified when each blog post is published and see the process unfold, go to my website at https://kateshafferfineart.com and sign up for my mailing list. I will send out a notice once a week when each new part of the process is posted. This site will also have information on where you can get prints of each painting as soon as it is finished.
I am pleased to be chosen by Dr. King and the Give Them A Voice Foundation to tell the stories in a way that honors the survivors and all the people who love and care for them in their recovery. I look forward to taking this journey with all of you as well. You can read more about me and my story on my website.
https://kateshafferfineart.com/meet-kate-shaffer