The Daily Mail has written an interesting article entitled:  Married teacher 'was sex monster who seduced boys aged 13 and 15'.
Their bullet points read:
Teacher accused of repeatedly having sex with two boys in the 1980s
Court hears she abused her position of trust to groom the teenagers
Prosecution say she is 'a manipulator, well-skilled in what she was doing'
The story goes on and talks about Anne Laskey, now 55, who targeted two boys, 13 and 15.
Lakey has denied 13 counts of indecent assault involving two underage boys from 1987 to 1990. She told police the younger boy's allegations were a 'fantasy' and claimed she only had sex with the older boy when he was 18.
Then the Daily Mail makes  interesting statement:
The case ended up in court after the first alleged victim, now 41, came across Lakey's picture while researching a school place for his child.
This is how it happened for me. I ended up having total recall of the events that happened to me as a child from 4-14 at the age of 45. The abused boy, now a man, in this story has had a chance to speak out about the incident and its effects on him, and thankfully get a sense of justice. This has not been my experience, nor the experience of most men I have contact with.
The statistic most cited about male sexual abuse is that 1 in 6 men have been victims of sexual abuse. Great statistic for marketing and web urls, but it is simply not an accurate representation of the number of boys/men who experiences sexual abuse. The same study by the CDC from which people draw the 1 in 6 stat has much more to say on the topic – simply put…boys are raped more often than girls.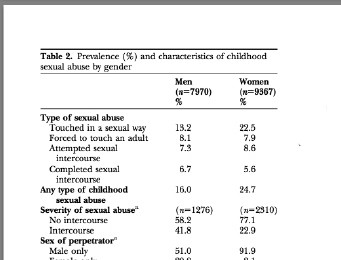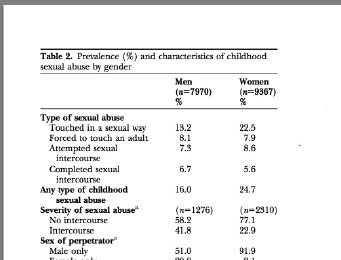 Here is an article that I found at A Voice For Men  that you may not find readily available about the sexual abuse of boys. They have a closer look at the table from the CDC study:
A quick look at the table shows that a total of the various types of abuse sum to 16% of males and 24.7% of the females. Okay. But look at the numbers for the least intrusive sexual abuse.  This is the category that one would assume would be the largest for both boys and girls with declining numbers to follow.  But what you find is that  13.2% of the boys experienced this lowest level of abuse and 22.5% of the girls experienced this lowest level of abuse. Still not a problem but obviously the girls experienced much more of the least intrusive type of abuse.

But look what happens with the more severe abuse: In the next category "forced to touch an adult" the boys outnumber the girls, 8.1% to 7.9%. Then in the next level of abuse of attempted intercourse the boys are 7.3% and the girls 8.6%. But it is the last most abusive category that got me wide-eyed. In this category of completed intercourse the boys outnumber the girls 6.7% to 5.6%!  This seems to say that more boys then girls were raped as children. That is a notable statistic. (that is absent from the discussion – TA)
Here is something else you will notice….look at the gender of those that abuse boys…51% are male….but look at the next line…20.8% are female abusers and then you have both genders being the abuser (that was my case) and then non-specified. So lets do this non-scientifically, lets split those last two stats in half, that means that another 23.25% of abuse perpetrated on young boys, is done by women.
So what have we learned?
More boys than girls are forced to touch an adult.
More boys that girls are forced into completed sexual intercourse
More boys than girls  (NEARLY DOUBLE) experience the worst kind of sexual abuse.
The sexual perpetrator of the sexual abuse of boys in 44.05% of the cases are females.
So my question to anyone who is prepared to listen…WHEN WILL THE BULLSHIT STOP ABOUT ABUSE BEING SOMETHING DONE TO GIRLS AND THE ABUSERS BEING PORTRAYED AS ALL MALE?
When does this become about human beings helping human beings? When does it stop being about perpetuating gender biases? When will those peddling their destructive agendas stop deliberately ignoring ALL of the facts?