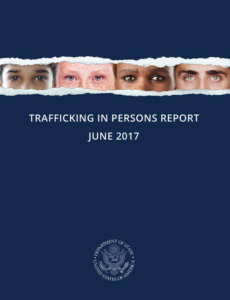 It is our pleasure to make this report available to you.
You will notice on page 22 the department's stance on the issue of the trafficking of men and boys as departed from ever previous administration and government report on human trafficking. Click here for the PDF download.
It is very inspiring to see our efforts bringing such tremendous fruit and even our blog post and conversation being subtly reflected in the report.
The most frequently cited global statistics on human trafficking indicate that men and boys represent nearly half of the total number of human trafficking victims; yet the identification and proper care of male victims remains an enormous challenge to governments and care providers around the world. Too often, men and boys go unidentified and remain in perilous situations, deprived of their freedom. When they do escape their trafficking situations, they are likely to be neglected by governments and service providers whose programs were established to shelter and assist women and girls. Instead of being treated as exploited individuals, they are at greater risk of being penalized or fined for offenses, such as crossing a border illegally, or of facing charges and imprisonment for crimes committed as a result of being subjected to trafficking.
From the Millions of Silent Men around the world – Thank you
Thank you Rex Tillerson. Thank you Susan Coppedge.
I have advocated long and hard for simple a seat at the table when it comes to the discussion of sexual abuse and human trafficking. All over the world, when given an opportunity, I have said this is an issue of #humanrights NOT #genderrights.
Thank you for hearing our voices.
Dr John A. King