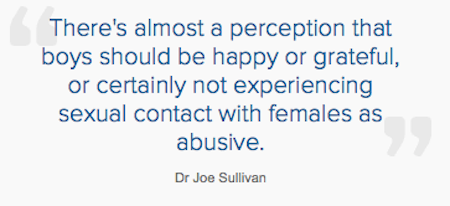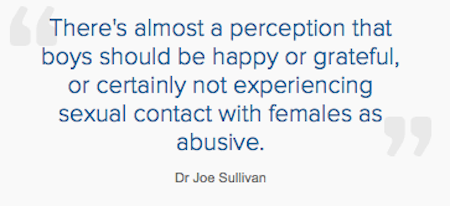 ABC News reporter David Lewis, updated this article just hours ago, fascinating reading in terms of, not necessarily a major culture shift, but rather and acceptance by society that this is a very real issue that we have to deal with.
——–
The number of women sexually abusing children is much higher than conviction rates would suggest, according to a leading forensic psychologist.
Joe Sullivan has spent 26 years counselling child sex offenders in the United Kingdom and is visiting Australia to attend an international police conference at Bond University on the Gold Coast.
While experts agree the majority of paedophiles are men, Dr Sullivan says women are responsible for more offences than previously thought.
"What I can say for certain is that it's way more prevalent than people fully appreciate or understand," he told the ABC.
"There's some research to suggest it could be as high as 25 per cent.
"However, when you look at the representation within the criminal justice system it could be as low as 3 to 4 per cent of overall convictions."
Dr Sullivan suspects the reluctance of victims to report abuse by women is one possible reason for this discrepancy. "Our experience is that victims of female perpetrators tend to be less likely to come forward," he said. "They tend to feel as though they're less likely to be believed."
"Society does not believe that women really do sexually abuse children," he said.
"There's almost a perception that boys should be happy or grateful, or certainly not experiencing sexual contact with females as abusive."
Experts at the conference warned ill-informed community attitudes could result in female paedophiles being treated differently under the law.
"In categories where you've got a young adult woman targeting 13, 14, or 15-year-old males, typically you find their sentences are lighter than the equivalent for a male," Dr Sullivan said of previous cases in the UK.