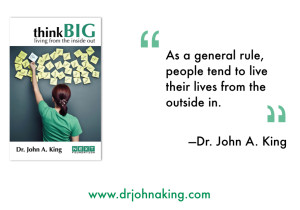 George Elliot said, "It is never too late to become what you might have been."
Your purpose, your future, is not a place that you are heading towards, but something you are creating.
It resides first in the soul, then the mind, then the will.
Your life purpose, once you discover it and realize it, is something that will change you as a person and will ultimately determine your destiny.
If you are truly going to live a life of purpose you have to accept the fact that the greatest force, the greatest agent of growth and transformation in your life, is a change of heart.
As a general rule, people tend to live their lives from the outside in.
Growing up, we are taught how to fit in, how to conform to social rules and society's standards. We are encouraged to make choices in life, but with those choices make as few waves as possible. We are taught that external behavior should be the regulator for internal values. We are told that how we portray ourselves on the outside is more important than who we are and what we believe on the inside.
The problem with this is that it forces us into a situation where we end up living unauthentic lives.
This attitude and approach ultimately inhibits our ability to communicate intimately with those whom we live and work with about the issues that are most important to us. Ultimately, it reduces many people to having relationships that are unfulfilling and meaningless. These are relationships that are driven on a performance basis, and are often shallow and one- dimensional. These types of relationships and this type of attitude, reduces our work, calling, or career to one of compliance and not passion.
It reduces much of our life to conforming to social and cultural norms, instead of the passionate pursuit of the things that matter to us; the things that excite us, the things we feel we were born to achieve.