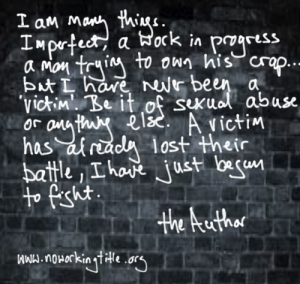 I've never been comfortable with the term "victim."
I've never seen myself as a victim. I don't know if I've ever seen myself as anything really. When it all came together for me, it was like a flood. It was like bits of old 8mm film that had been disjointed and now it all showed in one piece. That was the first time I was even tempted to use a term at all.

Before that all the pieces lay separately. On their own I knew they weren't right. My wife would tell me that any one of them would count as horrendous abuse. But I didn't get it. I didn't feel it. For me it was just my life. It was the life I had, the only life I'd ever known.
But the day they all came together changed everything for me. In that moment, I remember sitting devastated, sobbing helpless in my back yard as it played over and over again. All the images, the memories, the film that was my childhood.
What I cried for wasn't me the man, but the boy I had been….and what grieved me? Not so much what was done…but how could a mother and a father be so committed to the destruction of one they were supposed to care for.
Even then, I didn't see my now-self as a victim, and I didn't see my then-self as a victim. I just wept for what was done to a little boy who had no way to fight back….it is that feeling of injustice that still drives me.