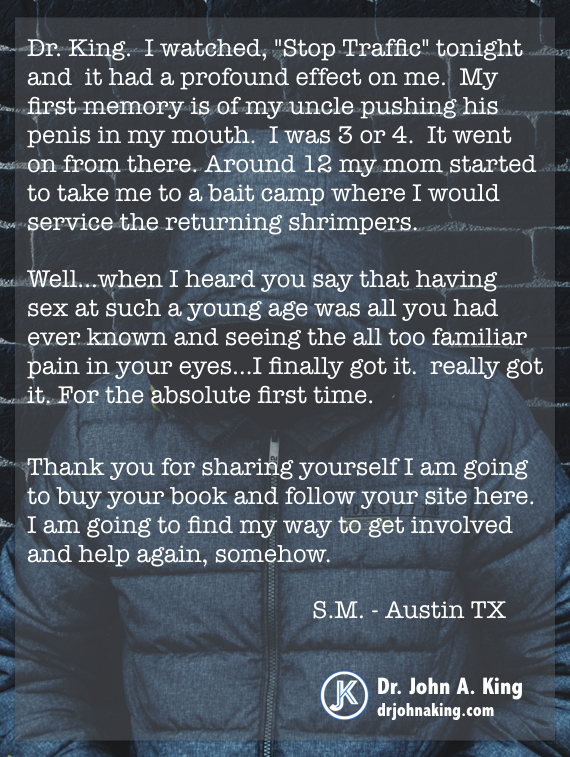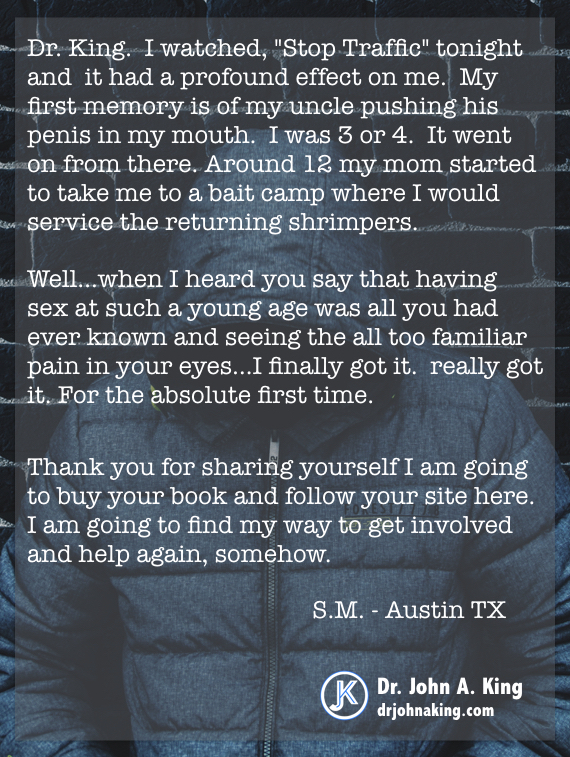 Dr. King. I watched, "Stopping Traffic" tonight and it had a profound effect on me. My first memory is of my uncle pushing his penis in my mouth. I was 3 or 4. It went on from there. Around 12 my mom started to take me to a bait camp where I would service the returning shrimpers. I always knew all this happened.
When I finally got out of that hell hole I grew up in, I went to therapy. I still felt nothing. Nothing at all. It was all just shoved down so deep. And the shame was so horrible that I split myself in half. Part of me was a straight A student and the other part went to bars and picked up men every night. Then, I picked sociopathic men to be with and I stayed because I always thought I deserved it.
Well…when I heard you say that having sex at such a young age was all you had ever known and seeing the all too familiar pain in your eyes…I finally got it. really got it. For the absolute first time. In spite of reading every book I could and over a decade of therapy as well as a life coach and talking about the abuse to my therapist and even volunteering with a sexual abuse survivor group…I honestly never got just how little I was and how much was taken from me.
Been crying ever since. But, I think it is good. I am 55 years old now. And I am pissed off for you and for me and my medical school mentor, whose name was D.C. and as also abused by his father every night of his childhood. Unfortunately, he took his own life 7 years ago. I stopped talking about my abuse because I was worried that people would see me as damaged, broken. But, it is so much a part of who I am that I have to find a way to use what I went through to try to help in some way.
Thank you for sharing yourself I am going to buy your book. I am going to find my way to get involved and help again, somehow. And thank you for reading my ramblings.
S.M. – Austin
#drjohnaking #dealwithit